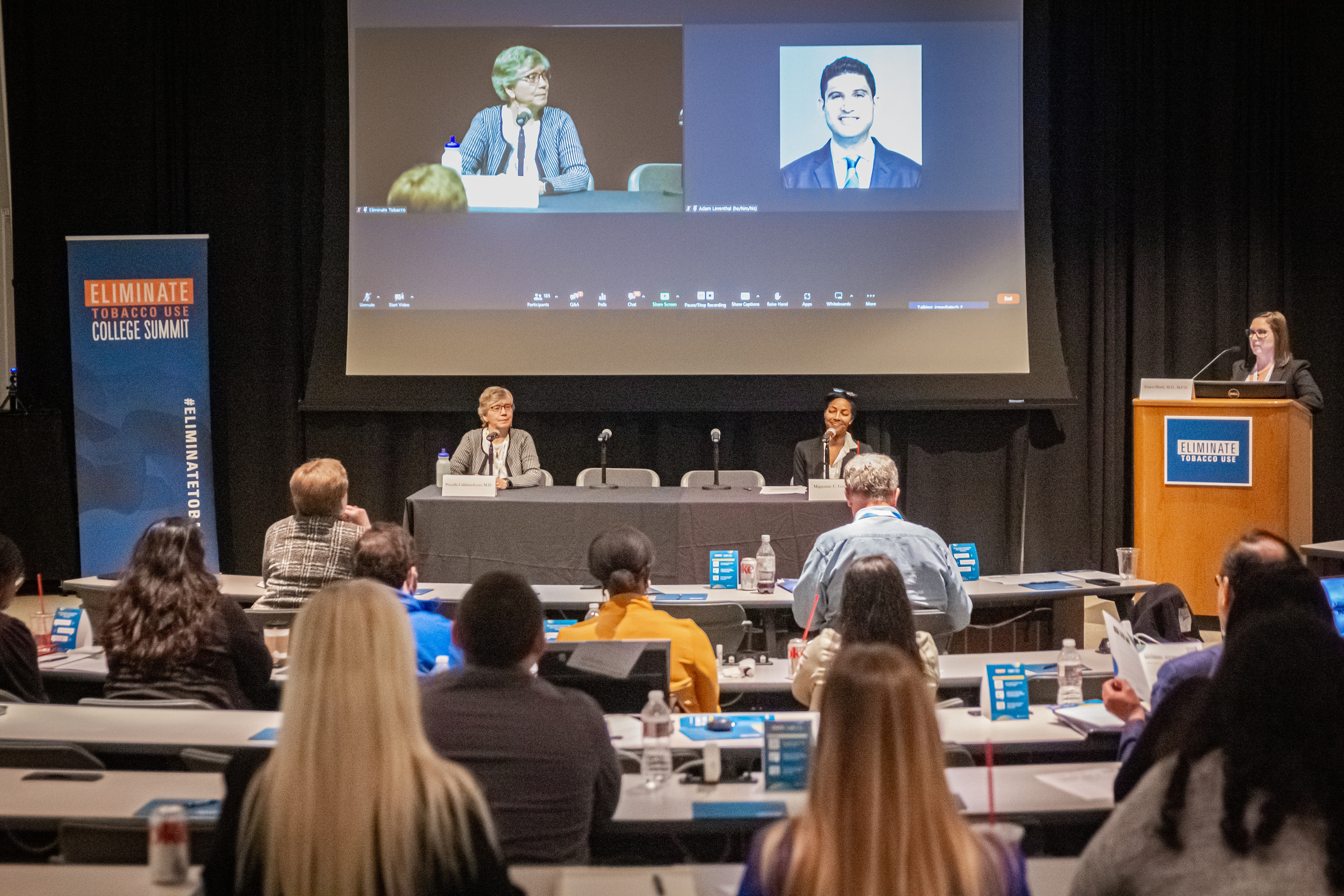 The Eliminate Tobacco Use (ETU) National Summit 2023 on April 27th called together tobacco control advocates both virtually and in-person at the University of Texas Southwestern Harold C. Simmons Comprehensive Cancer Center in Dallas, Texas. The summit was hosted by The University of Texas MD Anderson Cancer Center in partnership with the University of Texas System and incorporated the voices of ETU state leadership from Missouri, New Jersey, Texas and Virginia. Attendees were welcomed by initiative founders Dr. Ernest Hawk and Dr. David Lakey and Director Jennifer Cofer.
The national summit featured three keynote speakers and a panel of students from around the country to discuss the impact of ETU's efforts on their college campuses. The keynote speakers included:
● Dr. Priscilla Callahan-Lyon of the U.S. Food and Drug Administration (FDA), who divulged recent data around tobacco use and how the FDA is working to regulate tobacco products as the industry diversifies.
● Dr. Adam Leventhal of the University of Southern California, who explored the impact of non-combustible tobacco products, such as pouches and e-cigarettes. His keynote specifically focused on how these products are marketed and pushed towards young people and vulnerable populations.
● Dr. Mignonne Guy of Virginia Commonwealth University, who unpacked the tobacco-related health inequities from a historical perspective and offered some modern-day examples of how we can advance social justice in our communities around the issue.
In addition to the national summit, each ETU partner state hosted their own state Summit to facilitate regional collaboration and local progress around tobacco policy, prevention and treatment, and cessation efforts.
● ETU Virginia hosted 30 people in-person in Charlottesville, Virginia the week before the National Summit on April 21st. This summit was a workshop style gathering that highlighted the importance of campus and community organizing to achieve a comprehensive tobacco-free campus policy and increase tobacco treatment and cessation efforts.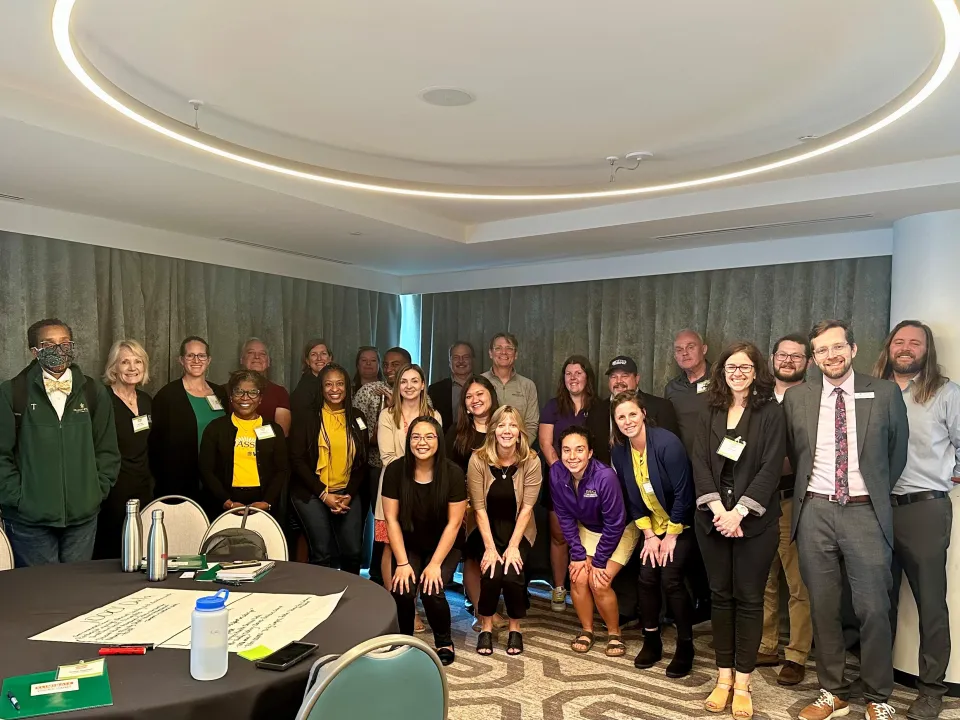 ● ETU Missouri hosted 80 people both virtually and in-person in Columbia, Missouri the day after the national summit and featured conversations around poly substance use and methods used by the tobacco industry to target Black Americans, young people and women. Students from University of Missouri, Rockhurst University, Harris Stowe University and Missouri Western University shared their voices to a panel focused on student perspectives.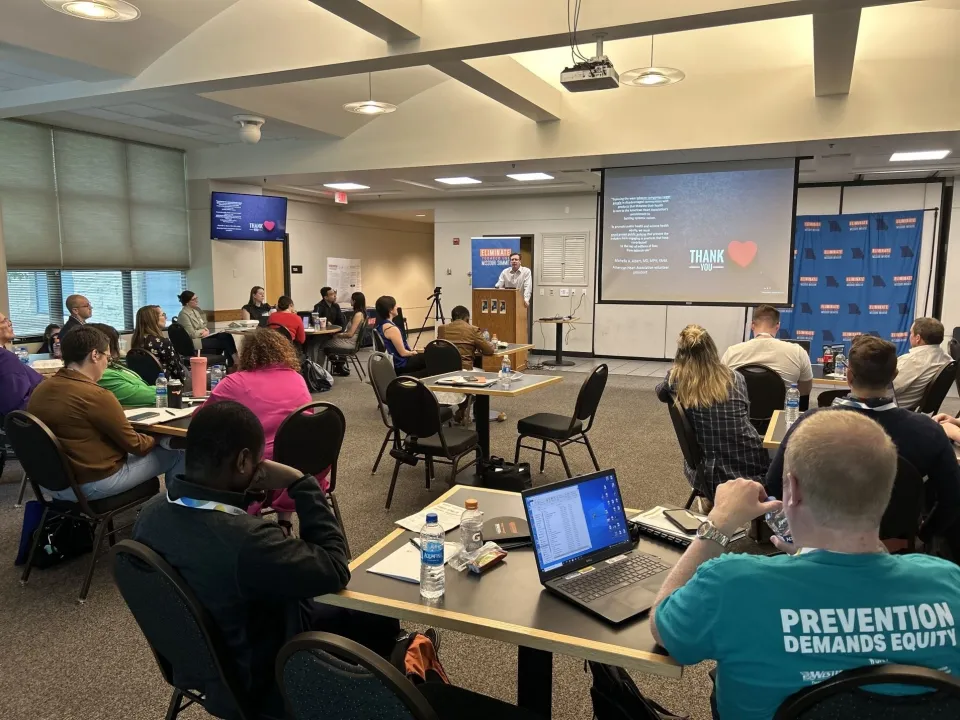 ● ETU Texas hosted 106 people both virtually and in-person in Dallas the day after the national summit and centered on the toll and landscape of tobacco use within Texas. Two breakout sessions concentrated on tobacco control in healthcare institutions and on college campuses, and a panel with students from Lee College, University of Texas at Arlington and University of Texas at Dallas shared their experiences as student advocates against tobacco use.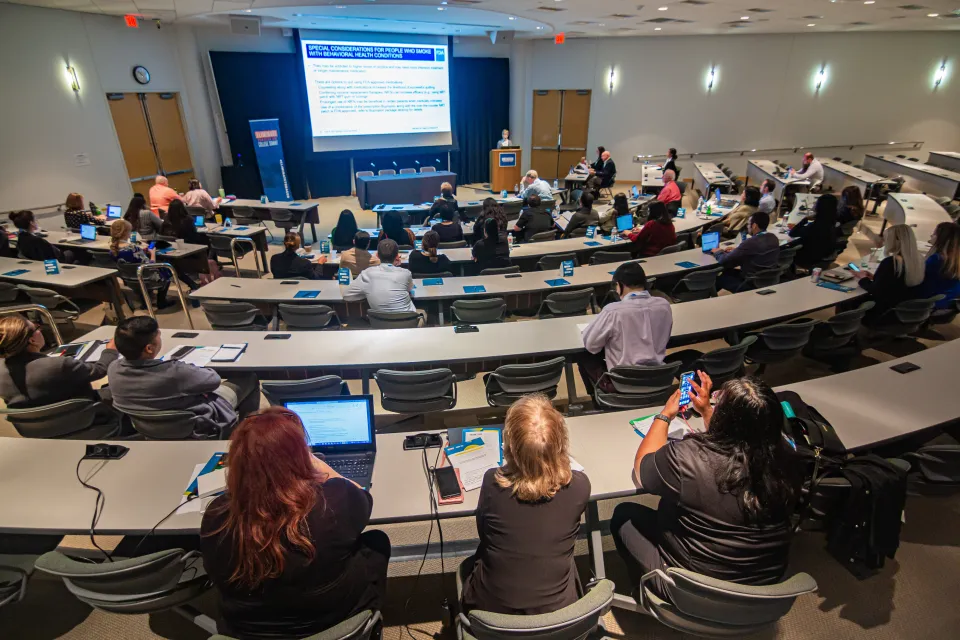 ● ETU New Jersey hosted 86 people virtually the day after the national summit and spotlighted mental health and how to promote tobacco-free campuses. Speakers included representatives from the California Youth Advocacy Network, the New Jersey Department of Health, Americans for Nonsmokers' Rights, the Atlantic Prevention Resources and the Truth Initiative. A variety of local colleges were also represented, such as Georgian Court University, Stockton University and Rutgers University.
The national and state summits brought together a combined total of 451 attendees from 212 organizations and campuses. The ETU leadership team is excited about the success of the 2023 summits and eagerly anticipate next year's National Summit, which is scheduled for April 10th, 2024.