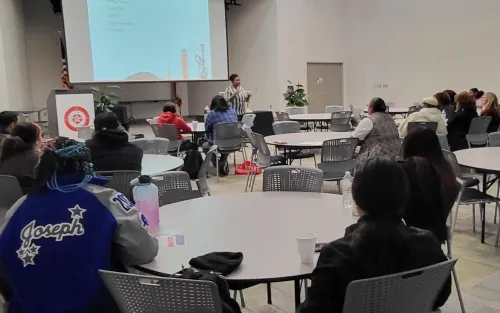 As part of Eliminate Tobacco Use Day (November 17, 2022), Lee College was proud to host a presentation through The University of Texas MD Anderson Cancer Center with speaker O'Neak Henigan, a Senior Community Relations Specialist at MD Anderson. Henigan is a specialist in prevention outreach with youth and young adults.
"The Truth About Tobacco and Vaping" had over 40 participants with information on dangerous tobacco products that deliver addictive nicotine to include cigarettes and electronic cigarettes. E-cigarette use is rising sharply among adolescents and young adults. MD Anderson's presentation is designed to equip young people with the facts on nicotine and tools to resist peer pressure.
Lee College students were also provided information on cessation resources, including the Truth Initiative's This is Quitting text messaging program for youth and young adults. Students can text "VAPEFREETX" to 88709.